Quote Devil Urges Care as Claims Triple At Halloween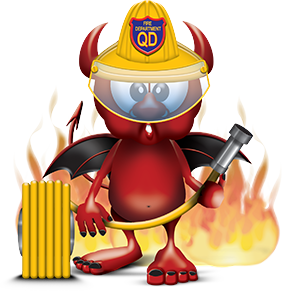 QuoteDevil.ie has released statistics showing Home Insurance claims surging to three times the normal rate on Halloween night. The company warned that the risk of fire and malicious damage to houses is far greater on October 31st and advised people to take extra precautions to safeguard their properties.
As bonfires start to appear around the country Quote Devil revealed that 75% of claims are for fire and smoke damage, with another 25% the result of malicious damage through vandalism. One of the biggest sources of claims is smoke damage from bonfires, with many homeowners shelling out thousands for painting, cleaning and even replacing furnishings.
"This is the worst time of year for home insurance claims with a marked increase in payouts for fire-related damage, broken windows and vandalised property. Halloween does seem to give a destructive element an excuse to rampage, and each year the results of this are seen in an increase in claims," said Quote Devil Chairman John McGuire.
McGuire continued by urging extra vigilance with home security, particularly important as the hours of darkness increase with clocks being reset for winter. "The sudden extra darkness longer evenings after the clocks go back creates an opportunity that burglars are quick to take advantage of. Home theft claims rose 15% after the clocks went back last year so we urge the public to review their security and make sure they have covered valuables such as laptops and jewelry in their insurance policies."
While Halloween is intended to be a fun holiday Quote Devil advises to put safety first and offers the following tips:
1) Do not offer or leave anything around that children can use to build a bonfire such as old furniture, wooden pallets, packaging etc.
2) Bonfires are illegal and inherently dangerous so if you are concerned by lit fires contact the Fire Brigade immediately. Do not wait for someone else to do so.
3) If leaving the house to accompany children trick-or-treating, even if only a short distance, remember to turn on your alarm.
4) Take care with lit candles as these can be an extreme fire hazard.
5) Check your smoke alarm now to ensure that it's working.
At Halloween we hear awful stories about the injuries that children sustain at Halloween but there is also a property damage side to this story. We have seen situations where severe damage has been caused to neighbors property by children playing with Halloween fireworks. We even saw one case where children threw lit sparklers into a neighbors house and they set fire to and melted the trampoline and all of their garden furniture. There was extensive damage and it was lucky that the house itself did not burn down. Fortunately the damage was covered under the home insurance policy within the public liability section which covers the insured and any children residing with them.
---