Keeping Your Home Safe this Christmas
Whether you are staying at home or going abroad for Christmas it is very important to keep your home safe and secure. We have put together a convenient little guide in order to help you do just that. We know that Christmas is a very busy time for most, from buying presents to putting up your decorations to visiting friends and family. Making sure your home is safe and secure when you are running out the door for last minute bits and bobs can sometimes be the last thing on your mind. Well don't worry, we are here to help!
Making your property less appealing to potential thieves
There are a few simple things you can do to make your home less appealing to burglars and thieves;
Make sure all your doors and windows have working locks and always lock them when leaving the house
Install a burglar alarm and make sure the alarm is visible on the front of your home
Always ensure your valuables and car keys are out of sight and are not easily seen through windows or in your porch
Join your local community/neighbourhood watch group
Do not put your travel plans on social media, this only lets thieves know your home is unattended. See this easy to use quick home security checklist for more tips.
Best practices for protecting your valuables
Keeping your valuables safe in your home is very important - there are a number of different things you can do to minimise the risk of theft;
Make sure your alarm is working and always switched on whenever you are leaving the house
Do not keep large amounts of cash in your home
Get a safe and ensure it is fitted properly. This is very important when it comes to storing jewellery as well as things like passports, cheque books, spare keys etc.
Do not post pictures of your valuables on social media sites, this is just an advertisement for potential burglars.
Avoid Publicising your Travel Arrangements on Social Media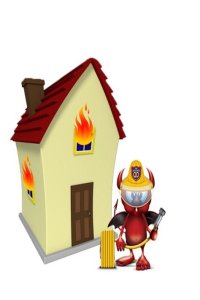 We know it can be very tempting to let your friends know you're jetting off somewhere nice for Christmas or the New Year by posting your 'check-in status' at the airport on sites like Facebook or Instagram. However, by doing this you are also letting thieves know your home is going to be vacant. It is also important not to post pictures online while you are out and about as this also lets burglars know that no one is home. Try and wait to post your holiday or night out snaps once you have returned home in order to keep your house safe this Christmas.
Make sure all your personal info is kept safe
Identity fraud/theft is becoming more and more common. Here are some things you can do to keep your personal information safe;
Safely dispose of any documentation containing any of your personal information. This can be done by shredding or burning any paper documentation
Keep your passwords different and private
Encrypt your personal data online and keep your browser secure with up to date anti-virus software
Avoid any phone calls or emails that ask for your personal info or bank details
Do not overshare on social media. Be careful when uploading photos that your personal details cannot be seen in the background of your pictures - for example, make sure your bank card cannot be seen in any photos
Keep all Presents out of Sight
It is important not to 'advertise' to opportunistic burglars that your home may be filled with expensive gifts and numerous presents this Christmas. As tempting as it is to pile all your Christmas gifts under the tree make sure they cannot be seen through the windows of your home. Once again try not to post pictures of your Christmas gifts on social media and always make sure your doors and windows are locked and secure when leaving your home.
Have a Plan If you are leaving your Home Vacant over Christmas
If you are planning on going abroad or visiting friends and family for long periods this Christmas there are a number of things you can do to keep your home safe including;
Lock up and make sure your alarm is working.
Be careful what you put on social media, don't let potential burglars know your home is vacant..
Let a trusted neighbour know you are going away and ask them to keep an eye on your property..
Put some lights on timers while you are away so that your home doesn't look unoccupied .
Make sure you don't have a spare key hidden in the garden waiting to be found. .
Never Use your car to Store Gifts
It is never a good idea to store gifts in your car. Whether visiting relatives and receiving gifts to doing your Christmas shopping, make sure to unload your car every time you return home this Christmas. Another thing to bear in mind is to ensure that you lock your car each time you take a load in to your home if it is going to take more than one trip. Never leave your car doors unlocked if your car is going to be unattended even if it is only for a few minutes. This is all a seasoned thief needs to help themselves to your possessions.
---