Protecting Property Storm Damage
In light of Ireland's recent bout of bad weather and in the wake of Hurricane Ophelia and Storm Brian, it has never been a better time to make sure your home has the right insurance cover in the event it is damaged by a storm. In order to safeguard the value of your property and make sure you're not out of pocket following similar weather situations in the future, it is very important to protect your home with the right cover for storm damage. Don't leave it until the last minute, let's face it, in Ireland bad weather is always just around the corner!
Protecting your Garden
Your garden can be the worst affected part of your home when bad weather hits.
Here are a few tips to help keep the damage in your garden to a minimum this winter;
Trim your garden trees and remove loose branches that could break off and cause damage
Keep all garden furniture in your shed during the winter months or tied down securely to prevent it from blowing away or damaging other parts of your garden
Cover or wrap larger plants with strong fabric to help them withstand strong winds
Clean out your gutters and outside drains to avoid your garden flooding
Watch out for Trees Near your Home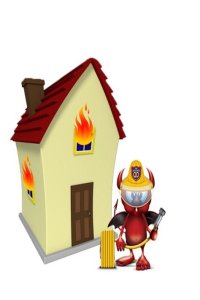 One of the biggest causes of property damage during ex hurricane Ophelia was damage caused by fallen or uprooted trees or their loose branches. It's a good idea to assess your property to see if there are trees that could be a potential hazard if hit by storm winds.
Signs of unhealthy or already damaged trees include:
Hollowing inside the tree
Broken or severed roots
Cracks in the trunk of the tree
Dead branches
Insect infestations
If these signs are present it might be worthwhile considering cutting down the tree to prevent damage to your property.
Secure Garages, Patios/Decking
If you have a garage, decking area or patio on your property there are a number of things you should consider in the winter months, including putting away or securing any outdoor ornaments and furniture. It is also important to take inside any small potted plants as well as making sure your barbeque or patio heater is in a safe place. You might also want to check your decking or patio for any loose boards or stones that could become dislodged during a storm as well as making sure your garage door is secure and safe.
Secure all windows and doors
With Ireland's notorious winter rain upon us it is vital your home's windows and doors are secure. Not only do you need to ensure they will not become dislodged in times of high winds, you also want to make sure they don't let the rain in! When preparing your home for storms like Ophelia it may be a good idea to install storm shutters if you feel your windows and doors need a little extra protection.
Investing in a Backup Generator
After Ophelia a lot of people in Ireland found themselves without power, some for up to 10 days. Now more than ever it may be a good idea to invest in a backup generator, especially with the colder months approaching. For those who live in flood risk areas this is especially important in order to keep a water pump going or for those reliant on electricity for medical equipment where a generator or battery backup could be vital.
Have your roof inspected for defects
As the saying goes "it's better to be safe than sorry!" It is always a good idea to have your roof inspected for loose tiles and slate as well as other loose material that could become dislodged during bad weather. Fallen roof slates not only damage the roof itself but can cause injury as well as causing damage to other property such as a vehicle parked in your drive. You also run the risk of a serious leak while waiting for repairs to be carried out that could in turn damage your attic, interior walls or ceilings leaving you with a hefty bill to pay!
Making Sure your Property has the Right Insurance Cover
There are a number of things you should consider when taking out a
home insurance policy
including:
Making sure you have your buildings insured for the correct amount. What is the rebuilding cost?
Making sure you have your contents insured correctly. Do you need cover for accidental damage?
Ensuring you have valuations for expensive items of jewelry (engagement rings etc).
Check that your smoke alarm is working (this could get you a discount on your policy).
Make sure your burglar alarm is working (this could also get you a discount on your policy).
Do you need to cover any items outside of the home? (laptops/iPads/cameras etc)
What are the policy exclusions? Is flood/subsidence cover excluded?
If you are unsure about what cover you need on your policy, just give one of our advisers a call today and they can talk you through the right policy to fit your needs.
---