Preparing for your NCT Tips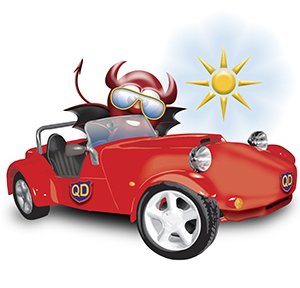 NCT
stands for National Car Test. The days when you didn't have a valid NCT, involved a wink and a nod, and you promised to get the car tested, but everything has changed now. Since December 2014, if you drive without a valid NCT certificate, it means you are automatically given a fixed charged penalty and 3 penalty points. According to the National Car Testing Service, in the first half of 2015 51% of vehicles failed the NCT test and almost 9% failed the re-test. Having your vehicle tested can be a stressful time for a lot of people, but preparing for it is half the battle. It doesn't matter whether you have an old car or a new one, having the test can be worrying and costly. Having the NCT test completed gives you a sense of security and the knowledge in knowing your vehicle and other cars around you are reliable and safe to drive. The very minor problems that can fail your vehicle are issues with tyres and lights. Read on and follow our simple
tips to prepare your car for NCT
:
Mark in and know your dates
For cars older than 3 years old,
it is mandatory to go through NCT testing
. Vehicles between 4 and 10 years old will only need to be tested every 2 years. If your vehicle is 10 years or older, it must undergo an annual test. Unlike motor tax, the national car centres do not notify you for testing renewals so it is important to note when your test is. Your test must be booked by yourself and this can be done up to 90 days before your certificate is due to expire. Within a 4-week period, if a booking cannot be provided for your car, then it can be tested free of charge. It is also tested free of charge if the national car testing centre cancels a pre-booking without 5 days' notice.
Clean your Car
Your vehicle needs to be cleaned inside and outside.It is a requirement of the NCT testing. Having a clean car also gives a good impression of a well looked after and maintained vehicle. It is possible that the test inspector can refuse to test your car if it is really dirty. De-clutter and clean inside the car. Empty the boot out, remove anything that may get in the way of the inspection. Remove the child's car seat from the car, the test inspector is obliged to check if the seat is fitted properly. It can be possible to fail the test due to this issue. Pay particular attention to your lights, mirrors, and registration plates, all need to be cleaned and your seat belts should be easily accessible for the inspection. If it is possible, you should clean the underside of the car also.
Check all your lights are in working order
Almost a 5th of failures are due to the lights. It is an instant failure if you show up to a testing centre with broken or blown lights, there is no excuse in getting them replaced. All lights must be checked such as dipped and beam headlights, indicators, rear and parking lights, brake and number plate lights. Your lights must also properly align. If you are not prepared to do the checks yourself, a mechanic can do the job for you.
Top up your car's fluids
All fluids for the vehicle must be checked thoroughly, these include engine coolant, engine oil, power steering fluid, brake fluid, and also the windscreen wash. If you are unsure on how to top up your fluids, see a registered mechanic and they can do the job for you.
Tyres must be Inspected
A major NCT failure is substandard tyres
. The tyres should not be damaged or worn down. There should be no bulges and the depth of the thread should be no less than 1.6mm at the middle of the tyre. If the thread is to low, it is time to change them. This is also important for your own safety while driving the vehicle. The tyre pressure should be checked also for the correct pressure, if you are unsure bring the car to your local mechanic.
Last Car Checks
Remove the hub caps if they are present from the wheels to ensure wheel nuts are visible. Check your wiper blades are working and not worn or damaged including the rear wipers if present. Do not arrive late for your test, always arrive early.
Have all documentation and Fee ready
The NCT centres will not look at your motor if you do not have all relevant documentation with you on arrival. This includes the
vehicle registration book
, registration certificate, and personal documentation of yourself I.e. driver's licence. Identification is so important. The NCT test fee is €55 for the full test and if you require a retest it costs €28.
Make sure your Car Insurance Policy is up to date
To be road legal, all cars must have a valid car insurance policy. Once your car has passed NCT testing, insurance and tax can be purchased. Quote Devil offer exceptionally low-cost car insurance quotes to get you on the road and driving in no time at all.
---