Electricians Insurance
Quote Devil has been arranging Electricians insurance for many years which means we know and understand the marketplace inside-out. Whether you work as an electrician or an electrical contractor, if you work in the industrial or residential sectors, you must be aware of the risks that electricity can oppose on you and your customers. People are trusting you to enter their home or places of work to make repairs or install new equipment safely. If something goes wrong, there will be consequences for your actions. It is important to consider having your electrician's insurance reflecting the risks that you could face on a day to day basis, this way you and your business are covered. We at Quote Devil understand the flexibility of your work and we can tailor your policy to suit your budget and needs.
The standard cover available on this policy includes:
Public Liability
Employers Liability
Loss of Tools
Public Liability
Public Liability Insurance covers you if a person becomes ill or gets injured because of your work and is making a claim against you for loss due to your negligence. This policy will help make sure you are financially protected. Unfortunately, it is a fact in life that accidents can happen, so that is why it is worth considering purchasing Public Liability Insurance if you are an electrician.
Employers Liability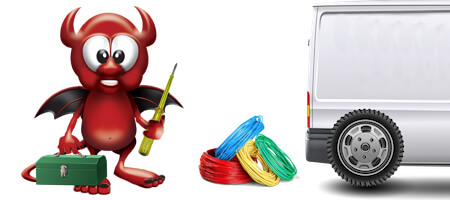 If you have employed a person who may not be a family member, then by law, you must have Employers Liability Insurance. This policy will provide protection in the event of an employee getting injured or ill because of their own negligence. If a claim is made against you, the policy will protect you against the cost of defending yourself.
Loss of Tools
You may think you only have a few low value tools that didn't cost a lot. In a lot of electrician's work, you will be using many other tools and equipment that may be expensive which will add up to a substantial amount of money. If they are stolen, this means you will need to replace them and you will be unable to work until they are replaced. It is important to have insurance cover for your tools as you will be able to replace them straight away without it costing you more than your agreed excess policy.
All business and commercial insurance other than commercial vehicle policies are dealt with through our sister company Pembroke Insurances.