Travel Insurance & Holiday Insurance Brokers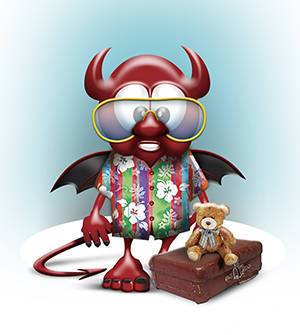 Whether you are a regular traveler, a backpacker or just going away for a short break Quote Devil can provide the ideal cheap Travel Insurance Policy for you. If you travel on a regular basis the Annual Travel Policy from Quote Devil will save you money and remove the pressure of arranging cover before each trip.
If you have Private Health Insurance with medical cover abroad then the premium that you pay is reduced to reflect the fact that you have already paid to cover part of the risk.
Multi-Trip Travel Insurance Available
Multi trip travel insurance is the best type of policy you can get. It's an annual policy so you only have to worry about it once a year and then you can forget about it until you receive your renewal in twelve months' time. Holiday insurance is essential for the peace of mind you need when travelling abroad.
We offer cheap holiday insurance however the cover is excellent. The main reason for the Insurance is to cover for emergency medical expenses including 24 hour emergency assistance, lost or stolen money or personal property like valuables or your passport and the cancellation or curtailment of your holiday. There are lots of other items covered like missed connection or missed flight but this cover really offers peace of mind. For these main reasons please read our policy document on our website for exact cover but the main benefits of holiday insurance are for peace of mind. For winter sports like skiing you have to pay a slightly higher premium. However, on a trip to the slopes you'll see how many accidents there are and you will never go skiing without a good value travel Insurance policy. Remember you can arrange the cover online on our website in a matter of minutes and then head off and enjoy your break!
Low Cost Multi Trip Insurance Deals
If you find yourself lucky enough to go abroad more often than once a year, then Multi Trip Travel insurance is the most cost effective way to cover you and your family. From the quick weekend breaks to the two-week sun or ski holiday we can provide the best cover for all your needs. We cover issues such as lost baggage to illness abroad we can tailor the best package for you and your family. Multi Trip Insurance is the best added extra you can invest in for your yearly trips abroad.
Worldwide Annual Holiday Insurance
Europe is the most visited part of the world for us Irish but for the more adventurous amongst us Worldwide Annual trip insurance is best for you. Adding annual travel insurance to your list of expenses can be a really smart way of saving. Cover you and your family for those quick trips to the Aunt in the UK or that Ski holiday in the States we have you covered. Regardless of the types of trips you or your family make every year we can proved you with protection against the unforeseen.
Is Travel Insurance Needed?
Do you really need travel insurance? Many people go abroad thinking that they won't ever need it. Here's a few tips to help you decide if you do. "Nothing's going to happen to me, I'm young, fit & healthy. Plus it's expensive, and I only saved enough money for my trip… What is it anyway?"
It's a great world to see but it can be unpredictable. Even the most seasoned travellers have left something behind on a taxi, plane or at their accommodation. They have plugged in and blew up an expensive gadget or grooming accessory due to different power or random surges. Some have had the misfortune of pick pockets to random road or sporting accidents. You want to make sure you're not stuck with a huge bill at the end of a not so pleasant holiday.
Before taking out your policy, check to see if they cover the following: How much of your medical / dental costs will they cover? If you're going to the USA for example, medical costs can be very high. Do they offer Medical Evacuation, if required? If you're in remote area, You want to be airlifted to a hospital with the best facilities to care for your needs. Do they offer 24 hour emergence assistance? Some things can't wait until opening hours. Other cover should include travel delays, lost luggage or important documents such as passports.
Over 70s Travel Insurance
With our over 70s Insurance plan, we will help you travel where you want to, when you want to. Now is the time to spend your savings on seeing places near and far. We aim to provide cover for all ages including over 70's and many types of medical conditions such as Cancer, Heart conditions, Stroke, Diabetes, mental health conditions and more. Protect against unforeseen circumstances such as having to delay your holiday or cutting it short. If you need single, multi trip or annual cover. Choose the cover that suits your needs most.
Backpacker Holiday Insurance
You have finished your studies and not yet ready for the working world, now is the time to see the world from the Great Barrier Reef to the Great Wall of China. Although it might seem a good idea to save on this part of your trip, paying for insurance can be the best thing you can do. From being helicoptered off a mountain in Peru to your belongings stolen in a hostel or busy market, backpacker travel insurance can be that extra protection. Contact us to help us design the best package for your adventures.
Extended Stay Cover
We have some fantastic deals on Extended Stay Cover. If your back packing adventure ends up being longer than you expected or you plan on spending half the year in warmer climates Extended or Long Stay cover is the type of insurance that suits you. For the Year in Australia or Canada for example this insurance will help in the event of an accident while there or you have to cut your trip short to come home we are there to help you when you need it.
Cover for Pensioners
You are retired and your feet are starting to get itchy. Now is the time for your S.K.I Holiday (Spend the Kids Inheritance!). Taking into consideration health conditions, we aim to provide cover for all ages including those in their golden years. We can help get your pensioners travel insurance for those with types of medical conditions such as cancer, heart conditions, stroke, diabetes, mental health conditions and more. Protect against unforeseen circumstances that your health conditions may cause such as having to delay your holiday or cutting it short. If you need single, multi trip, or annual cover, choose the cover that suits your needs most.
This insurance is provided and administered by AIG Europe Ltd