Car Insurance
Quote Devil Car Insurance advice and quotes are now available. We have some of the cheapest motor insurance rates in Ireland, including insurance schemes exclusive to Quote Devil.
Call one of the Quote Devil team now on (01) 254 1300 to see if we could save you money on your insurance quote! Or you can drop us a line by completing the form below and click 'send'. We'll get back to you as soon as we can. Get a quote for Cheap Car Insurance.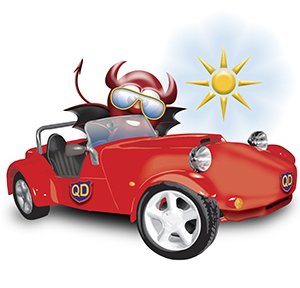 Cheap Car Insurance Quotes
Quote Devil are dedicated to getting you the lowest priced car insurance cover. We all know how important a low price is even those of us getting on in years! We all remember how difficult it was coming up with your first insurance premium. So we are dedicated not only to getting the lowest price possible for first time drivers but also driving down and keeping down the cost for more experienced drivers. We have a team of dedicated advisers that can assess your current cover and compare it to our policies, both in terms of cover and price. It is very important to look at both, as getting the right cover is just as important as a low price. Our team of advisers are based in Dublin so you can give us a call or complete the on-line form on this page and we will get back to you immediately, confirm all of your details and then advise you on the best option.

Quotedevil have been arranging cheap motor insurance with great cover in Ireland since 2009 and we would love the opportunity to improve your cover or reduce your insurance premium. If you are a first time driver we can walk you through the steps involved in getting your first policy and we can also offer instalments to help pay the premium over the course of the year.
How much could you save on your Car Insurance?
Just send us some basic information and we will be in touch.
Comprehensive Auto Insurance from €250
Alternatively, if your past or present insurer has declined to quote you based on being a convicted driver then Quote Devil also specialise in insurance for convicted drivers.